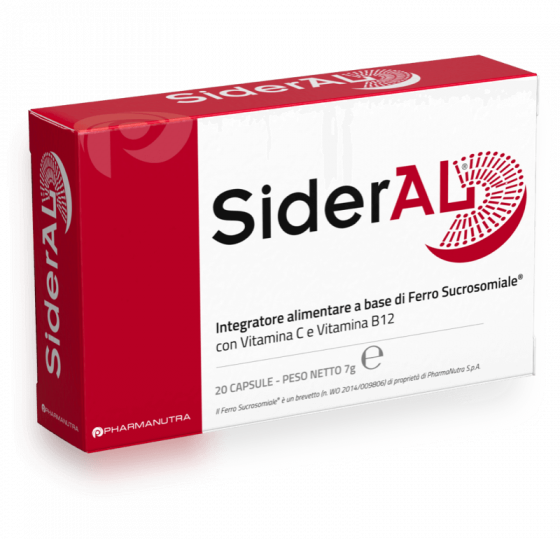 SiderAL®
SiderAL® is a food supplement containing Sucrosomial® Iron (Sideral® r.m.), Vitamin C and Vitamin B12, which is useful in the presence of dietary deficiencies or increased body needs for these nutrients.
Sideral® r.m. contained in SiderAL® is an iron processed with Sucrosomial® Technology, which passes through the gastric environment and is absorbed in the intestine level, thus preventing the most common side effects associated with iron intake, such as heartburn, intestinal irritation, mucous membrane and tooth discolouration. SiderAL® also contains Vitamin C, a nutrient that facilitates the normal absorption of iron by the body.
Advantages SiderAL®
Gluten free
Lactose free
High absorption
Great tolerability
Sucrosomial® Iron is the functional ingredient
SiderAL®, thanks to Sucrosomial® Iron, contributes to:
The reduction of tiredness and fatigue

Normal energy-yielding metabolism

Normal cognitive function

Normal oxygen transport in the body

The formation of red blood cells and haemoglobin

Normal function of the immune system
Directions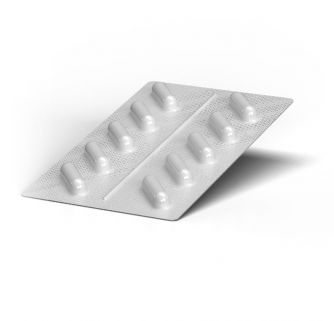 The recommended dosage is as follows: 1 capsule per day, swallowed with plenty of water at any time of the day.
Each pack contains 20 capsules.
Warnings and storage
Supplements are not intended as a substitute for a varied, balanced diet and a healthy lifestyle. Do not exceed the recommended daily dose. Keep out of the reach of children under three years of age.
Store the product at room temperature (not exceeding 25°C). Avoid exposure to localised sources of heat.
Average contents
| Average contents | Per capsule | % NRV |
| --- | --- | --- |
| Iron | 14 mg | 100% |
| Ascorbic Acid (Vit. C) | 60 mg | 75% |
| Cyanocobalamin (Vit. B12) | 0,375 mg | 15% |
%VNR= Percentage Nutrient Reference Values pursuant to Regulation 1169/2011
Sucrosomial® Iron is a registered trademark.
Sucrosome® is a registered trademark.
Sideral® is a registered trademark.
Sideral® r.m. is a Sucrosomial® Iron-based patented ingredient.